Reporting Module
Stay on top of your project using INCITE Keystone's powerful reporting engine with a whole range of different graphs and charts. Visualising your project data has never been easier.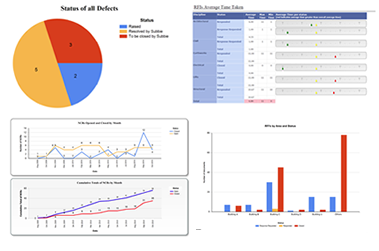 To stay in control, on time and on budget, project managers need a strong reporting function that delivers both scheduled and dynamic, 'on demand' reports. Scheduled reports are automatically generated and sent to the relevant managers at a pre-defined time, on an hourly, daily, weekly or monthly basis. Dynamic reports can be generated any time, using the live, real-time data. These reports can assist the project in making quick and informed decisions by monitoring the performance of the project and its individual processes, such as design approvals. They can also be used to track costs and provide an easy way to identify the root cause of variations.
Report function at a glance
Reports can be individually tailored to project specific requirements
Reports are generated live, using real-time information
Planned vs. actual reports provide greater visibility across the status of project deliverables and performance
Reporting Module Features
My Open Actions
Track Performance
Schedule Reports
Custom Layouts
Root Causes Analysis
Allows users to drill down to see critical items requiring their attention so any deviations are immediately identified.
Track turnaround times to identify potential bottlenecks in the process, to evaluate trends and to identity potential risks
Schedule automatic distribution of reports relevant to a project member's specific areas. These can be set up as hourly, daily, weekly or monthly reports.
Create custom report layouts that match your corporate or project templates
Group, sort and organize your report data in different ways allowing in depth analysis of issues