Design Management Module
The clear, logical way to manage the design documentation
Companies in the construction and engineering industries use complex design and drawing management processes which are traditionally paper based. INCITE Keystone's Design Module streamlines the entire process of collaborating on design. Design documents are among the most important for the project, forming the basis for tenders, contracts, execution and recording what is built. Well organised processing and traceability of all drawing movements are fundamental to the cost-effective and successful completion of a project.
Collaborative Design Team
The INCITE Keystone design processes provide a flexible and repeatable process for reviewing and approving documents. At each stage of the document review, the document may be revised and forwarded to the next approver via an automatic notification. INCITE Keystone tracks all design reviews and identifies who is responsible, when each review is due and whether multiple reviewers are required.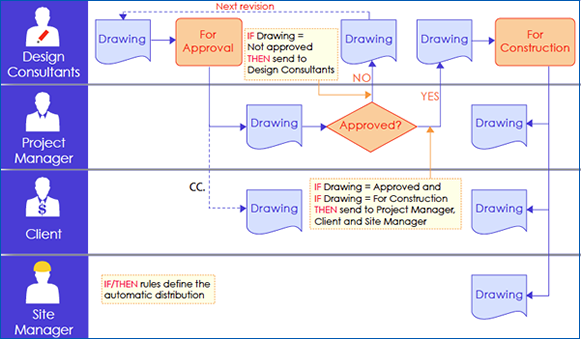 Quick and simple distribution of design documents and drawings
Participants are always aware of current project status
Real-time drawing lists
Time savings from automated processes and predefined workflows
Transparent, comprehensive records of drawing movements
Entire archive created on project completion
Standardised drawing number schemes can be set up for use project-wide. This ensures design meta information is captured correctly every time.
All design documents are logically sorted and systematically filed so that they can be found again in an instant.
Drawing lists are automatically maintained. They always represent the latest versions. Drawing lists can be printed or exported to PDF or Microsoft Excel file formats.
Various search tools ease the task of finding drawings and information in attached files. Searches can be saved and displayed results always relate to the latest revision.
Distribution lists can be set up to ensure drawings reach the right recipients quickly.
Detailed distribution rules can be used to automate contractual reviewing procedures such as obtaining final approval of drawings.
Schedule management provides different methods of assessing progress. The system also enables the calculation of future delivery dates.
Automatically create transmittals to accompany design documents, tender documents, shop drawings and other reference material.
The Pending Records identifies when a new version of a document has been created and the transmittal process is updated using the previous recipient list.