Approvals & Variations Module
INCITE Keystone lets projects manage changes to assist with reducing risks and facilitating opportunities.
All contractual parties aim to minimise loss and liability against a contract, and the most likely factors in exceeding budgets or delivery dates are project variations. During a fast-track project, changes are not always documented correctly or comprehensively. Team members liaise directly with the client and other project stakeholders regarding variations, and change confirmation documents are traditionally only available as isolated emails, faxes or letters – which frequently results in the 'softening' of contractual agreements.
INCITE Keystone helps organisations identify variations and risks at an early stage by enabling processes to manage and measure them against the contractual agreement. This provides the ability to react in a timely and appropriate manner, by flagging potential cost and time overruns.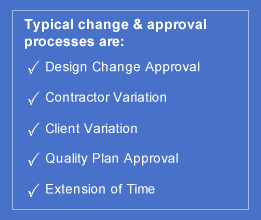 Be in Control of All Project Changes
All project communication and documents are available at any time and provide a full audit trail for all changes
Version control ensures all parties are working on the latest information
Changes in cost and material can be tracked at a document level and be included into the process
Due dates can be set up to measure milestones and project performance
High level search and control functions deliver the project manager more visibility across the entire project
Project participants across many companies can interact with the structured processes and workflows of the project, ensuring that information is captured in a consistent format
Managing Change, Reducing Risk, Gaining Opportunities
INCITE Keystone has a strong communication and document management focus. This means that all documents relating to project variations, including faxes, emails and scanned letters, are documented in a structured way to make them easy to find when needed. A change process can include various other processes such as Approvals, Notifications and Instructions.
INCITE Keystone maintains a variation register, which contains the supporting documentation required for negotiating with the relevant stakeholders, to ensure that changes are tracked in order to minimise the impact on project profitability.